My homepage is the hub to your Discovery Education services, preferred content, and instructional tools - and can be personalised for you and your interests.
---
Access My Homepage
To access My Homepage at any time, select Go to My Homepage from the grid navigation menu, or click on the Discovery Education logo in the upper left hand corner.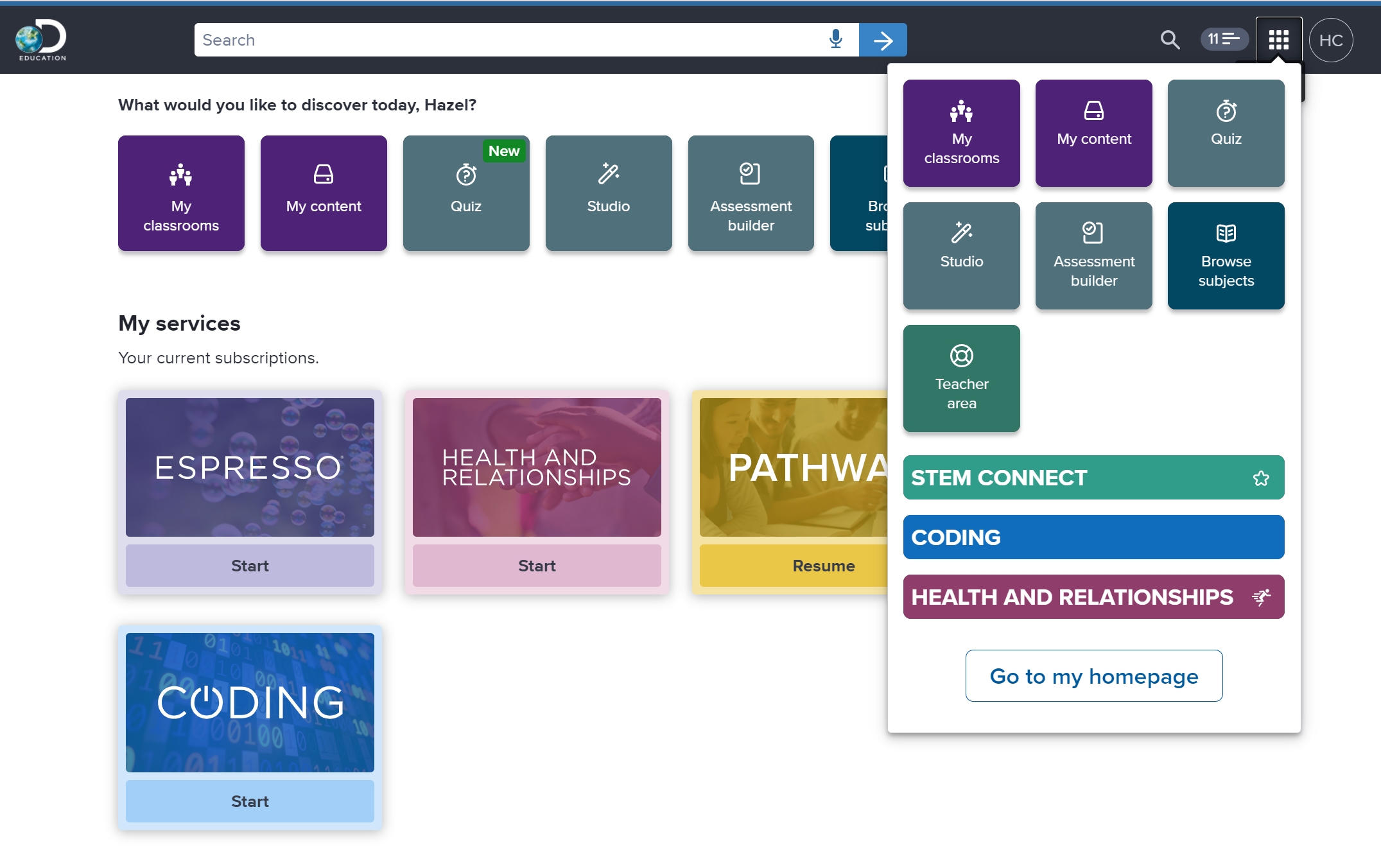 ---
My homepage navigation

My classrooms: Manage classroom groupings and assignments with Classrooms
My content: Organize favourite content into folders with My content
Quiz: Exclusive to Discovery Education Espresso partners, build formative assessments such as video quiz, standard quiz, and ask live quiz to check for understanding
Studio: Create and deliver lessons with Studio, Discovery Education's creation and collaboration space
Assessment builder: Build student assessments with Assessment builder
Browse subjects: Drill down by subject to find a collection of resources
Teacher area:

Find the support you're looking for with everything from getting started to helping you maximise Discovery Education in your school.

Find a wealth of professional learning opportunities that fit your schedule, real-life examples of Discovery Education in action and our popular Spotlight on Strategies.
---
Subscriptions
All the Discovery Education services your school is subscribed to - like Espresso, Coding, Health and Relationships, STEM Connect and Pathway - are listed on your homepage so that you can access them quickly. Don't see any of those services listed? Contact us to discuss subscription options for your school.



---
Recently viewed
Want to jump back to that resource you viewed yesterday? View your most recently viewed resources at any time.



---
Recommended for you
Discovery Education curriculum experts will recommend our best content, upcoming events of interest and timely and relevant events to ensure you're making the most of your Discovery Education subscription.


---
Channels
You can add channels to your homepage to always get to the content that is important to you. By default, you'll be subscribed to channels to best meet your interests.

---
Organise My Homepage
You can determine the order of the sections on your My DE homepage to best meet your needs for quick access to the things you use most.