Single sign on (SSO)
Our Experience platform also offers Office 365 and Google SSO. This will enable teachers and pupils to log into Discovery Education platform using their O365/Google accounts. Please let us know if you have either of them setup in school and if you wish to access Espresso that way.
QR logins and Emoji logins
We also have QR code logins and Emoji passwords available for pupils, if you would prefer this option please let us know and we can activate this for you.
Setting passwords
If you have completed your Wonde integration or manually uploaded pupil accounts using our User import tool, you will still need to set the passwords for your pupils.
You can setup the passwords for your pupils through the Classrooms.
Select Classrooms from the top navigation tiles and choose All Classrooms.

In the Classrooms, under 'All classrooms' you will find your class that you teach. The yellow triangle next to the class name will indicate that the pupils in the class require passwords. To set the passwords, select 'Bulk set passwords' from the Actions menu.
Note: If you have manually uploaded your accounts using our User Import tool, you will have to manually create your class and add your pupils.

You will now be presented with the option to either generate passwords automatically or manually. With the manual option, you will be able to add your chosen password for the pupils.
Select your preferred option and click on continue.

You can now assign your chosen passwords to the pupils in your class. Passwords must be a minimum of 5 characters long. Passwords support letters, numbers and special characters. When you have finished, simply click on 'Save pupils passwords'.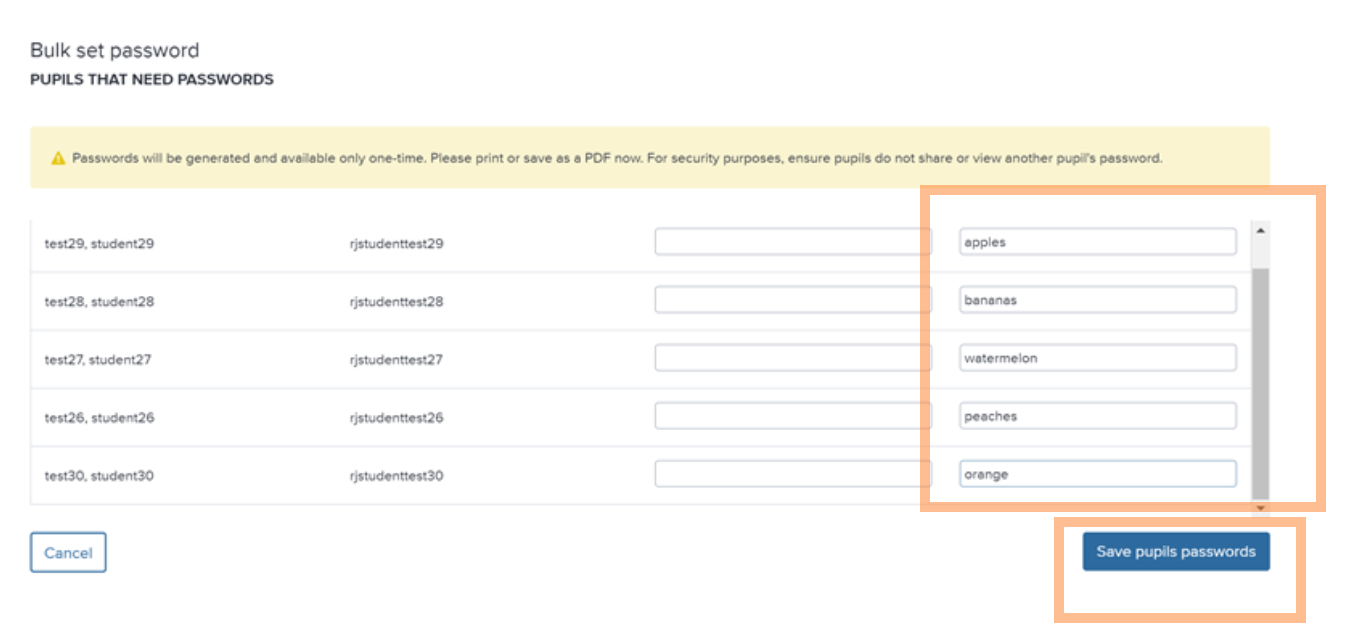 Once you save the passwords, you will have the option to print or save the passwords in a PDF file.
Note, the only way to view the password is to save this file as a PDF or print the file at this step. Once you leave this screen, you will not be able to view the pupil password that you have set.