Sharing content with pupils enables fast access to materials and minimises distractions. Content can also be shared among teachers to support collaborative planning.
Note: When sharing content to pupils, pupils must have a Discovery Education account and your classes must be set up. If you are unsure how to do either, explore these articles:
Manually Create Pupil Accounts

Manually Create Classes

Manually Add Pupils to a Classroom
Depending on the location of the resource, you may see an ellipsis (…) or simply a Share button. Select Share to open up the many options.

.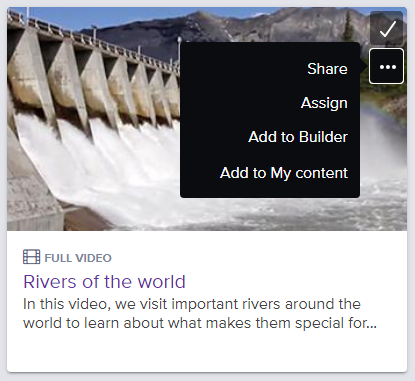 Share Options:
Copy Link

: This feature allows teachers to provide a direct link to the resource by copying the link. This link can be shared in a Learning Management System, through email, placed in a QR code for quick access through a mobile device, or shared through any other communications.

There are

additional share options

through Microsoft Teams, Google Classroom, Edmodo, and other sharing sites.
Note: When shared by a link or through another application, a Discovery Education login is still required to view the resource at all times.